Freedom of Panorama
There is relief as a proposal to force tourists to seek permission before photographing famous European sites is rejected by the European Parliament.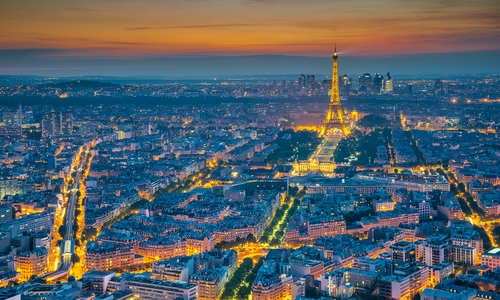 But you may still be violating copyright laws if you exploit photographs of the Eiffel Tower illuminated by night. Copyright laws are known to protect the creators of paintings, photographs, and musical works.  Buildings and monuments are also considered creative works, protected by copyright law.  Copyright tends to last for seventy years from the death of the author, so provided copyright in the work has not expired, the author or copyright owner is entitled to control and capitalise upon their creative work during this period.  Exploiting photographs of or reproducing a copyrighted work for non-personal use may violate these laws and lead to high penalties, if prior permission from the copyright owner has not been sought.  
Freedom of Panorama
The 2001 "Directive 2001/29/EC of the European Parliament and of the Council of 22 May 2001 on the harmonisation of certain aspects of copyright and related rights in the information society" listed an exception to the scope of copyright protection relating to the exploitation of architecture or sculptures located permanently in public spaces.  "Freedom of Panorama" is the name for the provision that enables people to publish and distribute photographs of modern architecture and public artworks without risk of copyright infringement.  However, it has not been adopted universally by EU member states.  France, Italy and Belgium did not transpose this particular copyright exception into their national laws, the consequence being that photographs taken in public spaces in these territories may infringe an artist's or architect's copyright.  
What is affected?
Whilst copyright in the Eiffel Tower structure itself expired some time ago, the night-time illuminations were added far more recently, in 2003.  These are considered an "artistic installation", separate from the structure itself.  As France has not adopted Freedom of Panorama, under French law, reproducing images of the Eiffel Tower illuminated at night requires permission from the Eiffel Tower's operating company "Société d'Exploitation de la Tour Eiffel" (SETE), who own the copyright.  Whilst daytime view are rights-free, night-time views cannot be exploited without proper permission.
Likewise, because Belgium also has no scope for Freedom of Panorama, images of the Atomium building, built in 1958, are also protected by copyright, and use of these images is restricted.  The Atomium website expressly states that the image of the Atomium is protected and cannot be published without permission (and payment).  Unless the law is changed, copyright protection enjoyed in the unique building will expire in 2076.
Proposed EU reform
Last week, the European Parliament considered proposals to reform copyright laws with stricter rules that could have led to Freedom of Panorama being abolished throughout the EU.  If these proposals had been adopted, the UK would have been forced to adopt the restrictions already in place in France, Belgium and Italy.  On 9 July 2015, Members of the European Parliament voted against the proposal to abolish Freedom of Panorama across the EU, by an overwhelming majority. However, an attempt to extend the provision across all member states was also rejected, meaning that photographs of modern architecture in France, Italy and Belgium still cannot be exploited for commercial gain, without prior permission.
What is allowed?
Whilst the copyright laws in place in France, Belgium and Italy primarily affect professional photographers and filmmakers, strictly speaking, tourists sharing holiday snaps on social media could also be violating copyright law.  
People are able to take photos of the Eiffel Tower at night for personal use only. However, distributing photos over the internet or posting the photos to social media are arguably non-personal activities.  According to the terms and conditions of some social media websites, every time a user uploads a photo, it grants the website the right to use it commercially, which could mean the use may be prevented by the copyright owner.Unlike the Eiffel Tower website, the Atomium website expressly states that use of the image of the Atomium is not restricted where photographs are taken by private individuals and shown on websites, social media sites and blogs, for no commercial purpose.
Heavy penalties
Whilst it is hard to imagine tourists receiving cease-and-desist letters or lawsuits for sharing their snaps on Instagram, if an image starts to attract economic value or high public exposure, users should be aware that the penalties for copyright infringement can be heavy. I would be very surprised to see a copyright owner prosecute an individual for copyright infringement, for uploading a holiday snap onto social media.  The prevalence of infringing images online tends to support this view.  However they would be within their rights to do so if they felt an image had been published or reproduced for commercial gain and without permission.  Use on private websites or for private photo albums for no commercial purpose is likely to be accepted, however, Facebook, Instagram and Twitter are commercial websites and this is a grey area.
Sharon Daboul is a registered UK and European trademark attorney at EIP in London.  She can be contacted at +44(0)20 7440 9510 or sdaboul@eip.com.