Clifford Chance lifts pandemic blues as revenue growth outpaces rivals
Magic Circle firm posts 6% increase in revenue after strong showing in the Americas region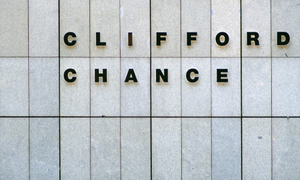 Clifford Chance has posted strong financial results for 2020, with revenue rising 6% to £1.8bn and profit per equity partner up 5% to £1.69m—outpacing rivals such as Allen & Overy and Linklaters.
With metrics also showing strong financial performance over the last five years, including 34% growth for the period, the firm noted this year's revenue growth was equally consistent between practice areas and regions, despite the impacts of the global pandemic during the first quarter of 2020. Partner profits for the year were £666m, 5% higher than 2019.
By contrast, Allen & Overy saw its revenue rise 4% to £1.69bn, with PEP falling just under 2% to £1.63m, while Linklaters revenue was 0.7% higher at £1.64bn, with PEP dropping 5% to £1.61m. Ashurst, meanwhile, posted revenue of £644m, £3m more than 2019, with average PEP of £903,000—its second highest PEP figure since the financial crisis.
Matthew Layton, global managing partner of Clifford Chance, said the firm had made excellent progress in achieving its strategic goals, noting "we have seen strong profitable growth across all our regions" since 2015. The US practice, he said, now generated more than $330m of profitable revenues, justifying its approach to the region. 
He added that, in tandem with the wider firm, "the scale and quality of our firm in the US, presents a highly compelling proposition for our clients… [and remained] an absolute strategic priority for the firm, in an area where we are extremely well placed for ever greater success."
The Americas region notched revenues of £263m, a 16% increase, and contributing 15% of the firm's revenues for the financial year. Since 2015, the firm has seen Americas revenue grow 70%, while adding 40 new partners. The London offices, meanwhile, showed strong growth with revenues up 6% to £587m, the next fastest contributor to its 2020 figures. 
Given the continuing impact of the pandemic, the firm decided to make reduced partner distributions against this year's profits, putting the money to one side for costs and uncertainties yet to come. This included additional expenditure on remote and flexible working and preparing offices across the network to reopen in due course.
Layton also hailed the success of the firm's finance, insurance, private equity and asset management business. Revenue from such clients, he said, had grown by nearly 70%. He also praised the firm's dispute resolution group, which added 21% growth in the past two years. 
Layton said the disputes group was "getting so many of the fundamentals right" and commended the group's targeted lateral hiring for creating "a fantastic pipeline of talent".
He also flagged the success of the firm's remote working plans, which occurred "without any substantive disruption" to the quality of work, recognising the scale of client needs from "recapitalisations, restructurings and eventual reopenings".
Referencing his recent announcement on diversity, he said the firm would maintain "a strong, inclusive and collaborative culture," saying "we owe it to [our people]—and to society—to keep up the momentum around forging a culture in our firm and in our sector which is truly inclusive and stronger for it. This is why our new inclusion targets are so important."