CMS global revenue jumps 18% as UK growth rises sharply
Firm-wide turnover reached €1.746bn in 2021; UK LLP fee income rose 13.6% to £644m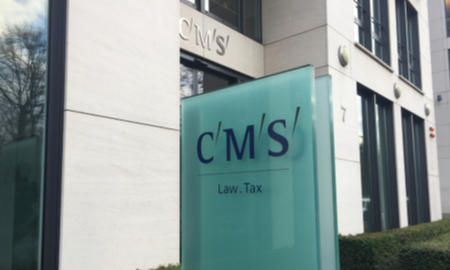 Revenue for CMS's UK LLP shot up 13.6% to £644m during the financial year 2021/22, while its global turnover – which is recorded per calendar year – rose 18% in 2021 to €1.746bn.   
The revenue growth for the UK LLP, which has overseas offices in Central and Eastern Europe, the UAE, China and Brazil, was a notable step up from the previous financial year, when it inched up by just 0.17% to £567m. 
The rise in global revenue is also a marked step up on 2020, when fee income rose by a more modest 3% to €1.475bn, following growth of 4.5% in 2019 and 5% in 2018.
The firm did not disclose its profit per equity partner (PEP), but said it had seen 'solid growth' across all of its key practice and sector groups.  
CMS chairman Pierre-Sebastian Thill said the firm's strong financial performance was largely based on organic growth.  
"Over the last two years, the ways in which we do business have perhaps been altered irrevocably, but with many of our clients at the vanguard of these changes, we were able to support them throughout this evolution by continually expanding the breadth and depth of our services," he said. 
---
Read the Global Legal Post UK law firm financial results tracker
---
That expansion included a tie-up with Norwegian firm Kluge in June last year, which brought the firm four regional offices across the country and more than 150 lawyers. 
The firm also promoted its largest-ever group to partner this year with 60 lawyers making the cut, including for two M&A partners in its new offices in Norway. 
The round was made up of 43% women lawyers, up from 37% the year before. A CMS spokesperson said at the time that the firm 'aspire[s] for significant and continuous improvement in all areas of diversity rather than strict targets', adding that 53% of UK and 42% of global promotions have been women over the last four years.
CMS also made some notable lateral additions, including adding Herbert Smith Freehills' former global IP practice head, Mark Shillito, in London in March. 
Eight other partners added in the UK during the previous financial year, including corporate partners Emma Clark and Edward Holmes, who joined from Clifford Chance and Linklaters respectively in January, and IP partner Ben Hitchens, who joined from Locke Lorde in October. 
CMS UK managing partner Stephen Millar said the results put the firm in a "strong position" to continue growing and supporting clients in a post-pandemic world. 
"Despite the continued challenges caused by global supply chain issues, rising energy costs, geopolitical uncertainty and inflationary pressures, our business fundamentals remain strong, and we are confident that these will continue to serve us well as we head into the new financial year," he said.