Gowling WLG adds Taylor Wessing partner quartet for Frankfurt launch as it targets Europe growth
Anglo-Canadian firm secures capital markets, M&A, PE and real estate partners to launch third German office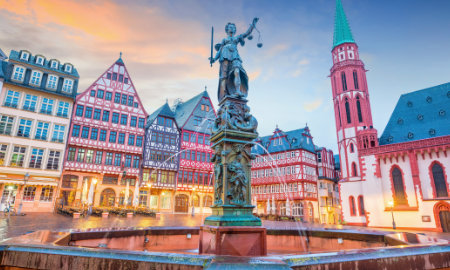 Gowling WLG has hired a team of partners from Taylor Wessing to open its third office in Germany, in Frankfurt, as it targets European growth. 
The new office forms part of the Anglo-Canadian firm's wider growth strategy in key global markets, including Germany, where it already has offices in Stuttgart and Munich, and would help to drive growth throughout Europe, the firm said. 
Partners Lars-Gerrit Lüßmann and Ulrich Reers have moved over from Taylor Wessing to lead Gowling's capital markets practice in Germany alongside Michael Sinhart and Michael Lamsa, who will head the German M&A, private equity and venture capital team. Gowling said a further partner will join in Frankfurt to lead the firm's real estate offering in the country.
The office will launch with a supporting cast of associates allowing it to advise on corporate/M&A and real estate transactions of any size from day one, Gowling said. 
David Fennell, chief executive at Gowling WLG and co-chair of the international board, commented: "Expansion in Germany is an important part of our growth strategy, so we are excited to be welcoming these outstanding lawyers to the firm and opening in Frankfurt - a key hub for legal services in Continental Europe.
"We are constantly looking at ways to strengthen our business and have ambitious plans to grow our presence in Germany and bolster our existing international platform. It is important to us to have a strong core platform across the three largest economies in Europe, in the UK, France and Germany. This launch will build on our existing corporate, IP and regulatory offerings, enabling us to better serve our German and cross-border clients, and will open up significant new growth opportunities for the firm."
The launch represents a major expansion for the firm in Germany, where it currently has three lawyers based in Stuttgart, according to its website. The firm's Munich base functions as a secondary office for UK-based members of the firm's IP team but doesn't house any lawyers permanently.
Lüßmann previously led Taylor Wessing's corporate and capital markets sub-group and specialises in capital markets transactions with a focus on subscription of shares and flotations as well as public take-overs and M&A transactions. Like Reers, who focuses on advising clients on share placings, admissions to listings on the stock market, official takeovers and M&A transactions, he worked at Linklaters in Germany before joining Taylor Wessing in 2011. 
Meantime, Sinhart advises on M&A and private equity transactions and also has in-depth experience in restructuring both in the run-up phase and in the context of insolvencies. He joined Taylor Wessing from the partnership of Hogan Lovells. 
Lamsa was with Clifford Chance and Weil Gotshal & Manges before moving to Taylor Wessing and specialises in national and cross-border M&A transactions and in particular advises strategic investors and financial investors from Germany and abroad. 
Dr. Daniel Perlzweig, director of international development at Gowling, described the Frankfurt launch as "a major milestone and the next step in our plans to strengthen our presence in Germany and our European offering".
"The new Frankfurt team gives us instant scale in this important market and allows us to start delivering high-end work straight away," he added. 
---
Click here to sign up to receive GLP's daily newsletter
---
At Taylor Wessing, meanwhile, Berlin partner Marc-Oliver Kurth has taken over as head of Taylor Wessing's German capital markets team, which forms part of the corporate/M&A group. He will work out of the Frankfurt office alongside partner Dr Christian Köhler 'until the capital markets team is completed again with a focus on the equity capital market,' the firm said. 
Taylor Wessing's Germany managing partner, Olaf Kranz, said: "Lars-Gerrit Lüßmann and Ulrich Reers have contributed outstanding services to Taylor Wessing's capital markets practice over the past years. For this, they deserve our thanks, as do our colleagues Michael Sinhart and Michael Lamsa, who have contributed to the success of our M&A practice. We regret the departure of our partners and wish them continued success."
"Despite the departures, our firm's German capital markets practice remains strong. With our partners Marc-Oliver Kurth and Oliver Rothley and a team of salary partners and associates, it continues to be successful. The same applies to the M&A practice in the Frankfurt office: it will be continued with the usual strength by equity partners Hassan Sohbi and Michael Stein as well as salary partners Stephan Doom and Christopher Peine and eight associates. The practice will be expanded in the near future."
The Anglo-German firm's German corporate practice has more than 90 fee earners including 53 partners – a legacy of its creation through the merger of UK firm Taylor Joynson Garrett and the German law firm Wessing & Berenberg-Gossler back in 2002. 
News of Gowling's Frankfurt launch follows UK rival Addleshaw Goddard hiring a crop of partners from rival firms last spring to open offices in Munich and Frankfurt, including IP partner Manuela Finger from Gowling.