Law Society of England & Wales elects first Asian and Muslim president
Lubna Shuja succeeds Stephanie Boyce, marking the first time the Law Society has had two consecutive women presidents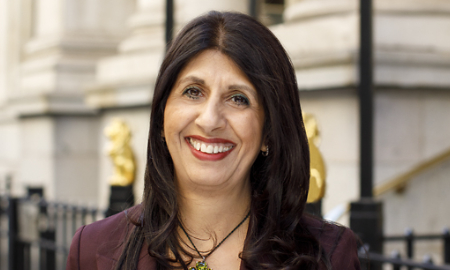 Lubna Shuja has become the first Asian and first Muslim president of the Law Society of England & Wales.  
Shuja, a sole practitioner from Birmingham-based Legal Swan, specialises in professional regulation and disciplinary law. She has acted as deputy clerk to the Solicitors Disciplinary Tribunal and in various leadership roles on conduct committees for accountants, social workers, healthcare professionals and chiropractors. She also acts as mediator in civil, family, probate and commercial disputes.
Prior to setting up her own firm in 2007 she was a partner at West Yorkshire firm Sampson Horner, where she worked for 13 years having first qualified at legacy City firm Fladgate Fielder in 1992.  
She succeeds Stephanie Boyce at the conclusion of her extended 18-month term, making it the first time in the Law Society's history that two women have served as president consecutively, with Boyce being the first black women to hold office. Boyce in turn succeeded David Greene as president following his resignation in March 2021 to contest ongoing professional disciplinary proceedings relating to a dispute with a former client.
Shuja previously held leadership roles with the Society, serving on its board. She was chair of the Sole Practitioners Group in 2012, before being elected to the Society's council in 2013.   
Her 18-month term as vice president also marked the first time an Asian lawyer had held the office since Kamlesh Bahl in 2000.
Shuja said she was honoured to serve as Law Society president, adding that she has taken on the role at a "difficult time" for the legal profession. 
"The rule of law has been in the spotlight as never before in recent history. The UK's economy is on a knife-edge and businesses are having to deal with rising interest rates and high inflation," she said.  
---
Read the list of more than 300 nominees for the inaugural Women and Diversity in Law Awards. The deadline for entries is 11 November
---
Shuja's year-long term in office will see her launch a major focus on ethics in the profession to help solicitors through the "minefield" of criticism she said has become more pronounced in recent years and has at times been unfair criticism of lawyers for "representing their clients and doing their job."
The focus on ethics is intended to help the public understand "the finely balanced ethical issues solicitors weigh up on a daily basis to ensure the rule of law is upheld," and will work in tandem with a concerted effort to educate the public about the role of justice, the solicitor profession and why they are vital to society. 
Professor Richard Moorhead, of Exeter University, congratulated Shuja on her historic first, "but also on putting ethics centre stage".
But he added: "I hope she will say clearly to her colleagues, as they often say to me, that much of the criticism of lawyers' ethics is not unfair but fair. The problems run much deeper than persuading the public on the rule of law. A renewed focus on integrity requires responding openly and constructively to failures which appear to have become increasingly common and prominent." 
Shuja will also build on Boyce's work on improving diversity, social mobility and social inclusion.
"I am the first Asian, first Muslim and only the seventh female president of the Law Society. I am a Northerner, originally from Bradford and I am from a working-class background," she said. "Diversity, social mobility and social inclusion are very important to me." 
Noting that more needs to be done to achieve gender parity in terms of pay and progression, Shuja said she intended to "understand better the barriers that firms and businesses are facing when trying to reach and promote diverse candidates as well as identify the challenges facing those seeking to enter and progress through the sector".
The Law Society has also named Nick Emmerson, a commercial partner at Lewis Mathys Emmerson, as its new vice president and Richard Atkinson, managing partner of Tuckers' Kent branch, as deputy vice president. 
Each year the Society elects the deputy vice president; the previous year's deputy vice president becomes the vice president and the vice president becomes president.