Mason Hayes & Curran elects financial services chief to succeed veteran managing partner
Will Carmody to take over after Declan Black's nine years at the helm that saw Irish firm double revenue and headcount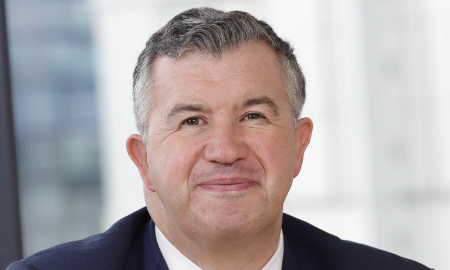 Irish law firm Mason Hayes & Curran has elected the head of its financial services team to succeed veteran managing partner Declan Black.
Will Carmody will begin his three-year term 1 January 2023 at the end of Black's nine years at the helm, during which the firm more than doubled revenue and size to become one of Ireland's largest law firms by lawyer headcount and opened its fourth office globally in San Francisco. 
"While the growth of the firm is gratifying, I am most proud of the culture of excellence, opportunity and integrity that exists in Mason Hayes & Curran. That's a testament to all the staff over the years," Black said, adding he was "delighted" that Carmody had been selected as the firm's next managing partner. 
Carmody will lead a firm with more than 570 staff including 108 partners and offices in Dublin, London, New York and San Francisco. Unlike its Irish rivals Mason Hayes publishes its turnover and in 2021 grew its top line by 23% to €98m. 
Carmody joined the firm in 2002 from Dublin firm Hughes & Liddy and has been head of the financial services department since 2018 and a member of the firm's senior management group since 2020. He represents financial institutions and corporate borrowers on lending transactions and has counseled clients including Allied Irish Banks, Santander, Royal Bank of Canada, BNP Paribas and Commerzbank.
The firm said that, like Black, Carmody will continue to practice 'for select matters' while serving as managing partner. The role is the top position at Mason Hayes but the firm also has a chairperson, who like the managing partner is selected by the equity partners, and a five-strong management team.
"We are very grateful to Declan Black for his focus on clients and primacy of client service, said current firm chair, Christine O'Donovan. "Also, working closely with Will in building a leading financial services practice over the last two decades, I have seen first-hand how he is equipped with the necessary leadership skills required at the helm, which the firm, clients and staff will benefit from greatly in the coming years."
For his part Black will continue in his role as a disputes resolution partner at the firm after stepping down. He has been with the firm since 1990 and focuses his practice on complex business disputes including shareholders' disputes, negligence claims and fraud-related litigation. He also represents stakeholders in corporate insolvency matters. 
Commenting on his appointment Carmody said, "I look forward to building on the growth of the last nine years. The success of our firm is dependent on our lawyers continuing to retain the trust and confidence of our clients. We will do this by nurturing the most talented lawyers to provide excellent legal advice aligned with our clients' commercial objectives. 
"Ireland's position in the EU, together with its stable investment climate and healthy domestic economy, gives us confidence and we look forward to the continued growth of our firm alongside the success of our clients."