Nishimura & Asahi in Thai combo
Tokyo-based firm confirms it has purchased all outstanding shares in SCL Thailand's SCL Group to create new Thai powerhouse.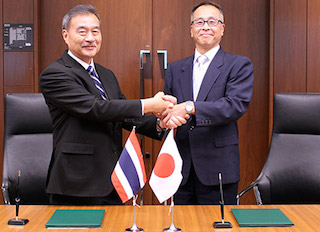 Japanese law firm Nishimura & Asahi has merged with Thai SCL Law Group to form SCL Nishimura. The deal will create one of Thailand's largest Japanese law firms, and the firms says it will make it one of the largest, well-resourced and most diverse international business law practices in Southeast Asia
Stronger presence
The Tokyo-based firm has purchased all outstanding shares in SCL, which is the sixth-largest law firm in Thailand, from its management team. The new firm has around 70 lawyers, with  63 joining from SCL and the remainder joining from the Bangkok office of Nishimura & Asahi. The merger is the second Japanese-Thai law firm combo; the first being the Mori Hamada & Matsumoto acquisition of Chandler Thong-ek in 2017 to form Chandler MHM. Nishimura & Asahi first opened its Bangkok office in 2013, under the name Nishimura & Asahi (Thailand) Co Ltd. Following the acquisition, SCL Nishimura has a significantly larger support structure, thereby establishing a stronger presence in the Thai legal market and meeting the growing and varied demands for legal services throughout the Southeast Asia region. Founded in 2005, full-service commercial law firm SCL (formerly the Chavalit Law Group) has been serving local, regional, national and international business clients in Thailand, comprising companies with diverse legal and business-advisory specializations, with operations throughout Thailand.
Favoured destination
Nishimura & Asahi managing partner Masaki Hosaka said "Southeast Asia is one of the most exciting places in the world to do business, and the profile of Southeast Asia is clearly rising around the world - especially in Japan and for our Japanese clients. The region is one of the biggest trading partners globally for Japan, as well as one of Japan's most favoured destinations for FDI. As a result, we see strong and continuing growth and returns on investment for our clients and for our firm in the region." Chavalit Uttasart, managing partner of SCL, added "As the first Japanese law firm to establish and maintain a permanent presence in many key Southeast Asian jurisdictions, Nishimura & Asahi was already well known to SCL. We are really delighted to formalize our relationship at this time and to provide our clients with services they can rely on, grounded in years of experience in the mature Japanese business markets as well as in Thailand and Southeast Asia, and with vision, to help chart their future course through these young and rapidly-expanding investment markets."