Foley Hoag refreshes litigation and arbitration leadership
Christina Hioureas in New York and Paris-based Diana Paraguacuto-Mahéo to co-chair group with Constantinos Salonidis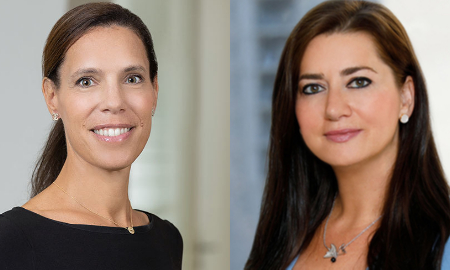 Foley Hoag has appointed a new leadership team for its international litigation and arbitration department.
New York-based Christina Hioureas and Diana Paraguacuto-Mahéo, who is based in Paris, have stepped up to become co-chairs of the group, alongside Constantinos Salonidis. 
At the same time, counsel Lawrence Martin is stepping after nine years serving as co-chair.
Salonidis, who works ouf of the Washington DC office of the Boston-based firm, said: "Christina and Diana are strategic thinkers and established leaders in the practice. Their elevation to co-chairs reflects our growth and the seamless integration of our international litigation and arbitration practices across offices." 
Jim Bucking, Foley Hoag's co-managing partner, added: "We are confident that this new leadership team will be instrumental in driving the strategic growth of the department and the firm." 
Hioureas, a public international lawyer by background, chairs the firm's United Nations practice group. She joined Foley Hoag in 2016 from Chadbourne & Parke and represents sovereign states, state-owned entities, and corporates in international investment and commercial arbitration disputes. She also advises states on UN proceedings, including connected agencies, alongside a broad-based disputes practice that includes human rights and climate change disputes. She also sits as an arbitrator. 
States she has acted for include Bangladesh, Chile, Croatia, Cyprus, Ghana, Greece, Guyana, Japan, Liechtenstein, Luxembourg, Mauritius, Montenegro, Qatar, Sierra Leone and Uzbekistan. 
Paraguacuto-Mahéo joined Foley Hoag as a partner in 2018 from Paris firm Ngo Jung & Partners and manages the Paris office. Her practice area expertise mirrors her colleague, with additional experience in conflicts of laws. She represents clients across an array of industries, including renewable energy, construction, defence, oil and gas, pharmaceutical, mining and telecommunications. 
Paraguacuto-Mahéo has a particular expertise in international disputes involving Spanish and Latin American parties, including states. She is a member of the ICC Court, which celebrated its centenary last month, having co-chaired its task force on emergency arbitrator proceedings.  
The shake-up coincides with the departure of longstanding arbitration partner Paul Reichler, who joined London's 11 King's Bench Walk as an associate tenant earlier this month. 
Co-managing partner Jeffrey Collins said: "We thank Paul for his service, leadership, and friendship, and salute his tremendous track record of success and accomplishment in international litigation and arbitration."
Reichler responded warmly: "What has always distinguished Foley Hoag from all the rest is not only the quality of its lawyers as lawyers, but their moral qualities as conscientious and courageous agents of positive change. My colleagues – old and new, partners and associates – many of whom I spent years mentoring, have grown into some of the best lawyers we have."
Last week, top 200 US rival Hughes Hubbard appointed three arbitration team heads following the departure of Hagit Elul, the co-chair of its arbitration group for Orrick in New York.