Who won Luxury Law Awards – and why
The top brands, law firms, legal teams and individuals honoured at Luxury Law Summit Europe
Senior executives, founders and general counsel from an array of top luxury brands assembled at the British Museum for the 10th annual Luxury Law Summit Europe.
A day of top-level debate around the theme of Luxury: New Frontiers culminated in the Luxury Law Awards, which highlighted exceptional achievement within the sector both by individuals and their teams.
Read on to discover who secured the trophies, which were designed by awards partner Asprey. 
Click here for more details about the awards, held on 22 June, and here for details of the judging panel. 
IP Team of the Year   
Winner: Mishcon de Reya   
Shortlist: Bird & Bird, Law Partnership, Mishcon de Reya
Lewis Cohen, co-head of Mishcon de Reya's retail and hotel sector groups, with awards judge Joanne Loughrey, associate general counsel, L'Oreal UK and Ireland  
Mishcon de Reya's IP team has been helping luxury brands to diversify their offerings by deploying new technologies including NTFs and other cryptoassets. The team comprises 70 fee earners including 23 partners with specialisms including brands, commercial, data, competition and technology. Advisory work includes licensing content for use in the metaverse; buying and selling NFTs; collaboration agreements with content creators to create physical and virtual goods, and ESG considerations for creating, buying, selling and auctioning digital assets on various blockchains. One judge praised the team for its "progressive and agile approach to a new and evolving area of the law".
---
Rising Star Private Practice   
Winner: Anna Radke, Brand Counsel    
Shortlist: Andrea Leonelli, Deloitte Legal; Anna Radke, Brand Counsel; Ashutosh Upadhyaya, Anand & Anand; Lucia Cantera, Cervieri Monsuárez   
 
Anna Radke with Joanne Loughrey, associate general counsel, L'Oreal UK and Ireland, L'Oreal
Anna Radke is a New York-based managing associate at Brand Counsel. She helps clients through their entrepreneurial journey on issues related to intellectual property, commercial transactions, contract, corporate and employment law. She manages a portfolio of nearly a thousand trademarks and counsels on cutting-edge licensing deals between apparel brands and prominent entertainers. "When I moved to the United States as a 19-year-old graduate of a public high school in Poland," she says, "I could not imagine that I would become an attorney in New York fighting for my clients' rights against some of the most talented attorneys in the world."   
---
Partner of the Year   
Winner: Nels Lippert, Tarter Krinsky & Drogin 
Shortlist: Anthony V. Lupo, ArentFox Schiff; Ciara Cullen, RPC; Dyan Finguerra-DuCharme, Pryor Cashman; Francesco Carloni, K&L Gates; Nels Lippert, Tarter Krinsky & Drogin; Safir Anand, Anand & Anand; Virginia Cervieri, Cervieri Monsuárez
Nels Lippert with awards judge Michael Ellis, group general counsel, Abercrombie & Kent  
    
Nels Lippert is chair of Tarter Krinsky & Drogin's intellectual property practice leading a team of 17 attorneys advising an array of top luxury brands. Stand out work includes a unique strategy to prevent third party sellers using thousands of a client's marketing photography without licensing or permission. The judges praised him for leading a team with great technical ability who stands out for his pro-bono work, including for ECHO, which reduces hunger by providing agricultural training and resources in more than 180 countries.   
---
Luxury Law Firm of the Year – Independent Law Firm   
Winner: Anand & Anand  
Shortlist: A & K Metaxopoulos and Partners Law Firm; Anand & Anand ; ArentFox Schiff; Cervieri Monsuárez; Jacobacci & Associati 
Safir Anand, senior partner and head of department (trademarks, contractual and commercial IP), Anand & Anand (left) with awards judge Michael Ellis
Anand & Anand is a full-service IP law firm which has maintained a long-standing focus on India's luxury sector advising an impressive roster of international brands. Landmark cases include Louis Vuitton v Manoj Khurana, which helped lay down the principle that a deeming inference shall be made that LV goods are counterfeit, when they are found to be sold outside the authorised distribution channel. According to one judge, the firm met all the criteria but stood out in particular for its commitment to ESG, as evidenced by the 'social damages' it secured in one IP case which provided resources to less fortunate members of society.   
---
Luxury Law Firm of the Year – International Law Firm   
Winner: Bird & Bird
Shortlist: Baker McKenzie, Bird & Bird, Deloitte Legal, Hogan Lovells and K&L Gates
Awards judge Georgina McManus, chief legal officer, Manolo Blahnik (centre) with the Bird & Bird team (l-r): Hannah Ellis-Miller, senior business development manager; Manon Rieger-Jansen, partner, head of luxury, fashion and retail; Nicola Conway, associate; Rebecca O'Kelly-Gillard, partner 
Bird & Bird's luxury specialists are spread across 30 offices, allowing its clients to navigate a patchwork of local laws globally. It caught the eye of the judging panel for its work developing tech tools for its clients. These include the firm's E-comPLIANCE Toolkit, which helps direct-to-consumer businesses ensure that their online offerings are legally compliant. 'This is what clients are looking for,' noted one judge. The firm also scored highly in the ESG stakes, its retail and consumer group having collaborated with its consultancy arm, OXYGY, to survey clients on the impact of sustainability on business priorities, innovation and leadership in their companies. 
---
The Law Over Borders Luxury and Fashion comparative law guides were officially launched at the awards; click here to read the guides online and purchase copies  
---
IP Counsel of the Year 
Winner: Mark Bearfoot, Tommy Hilfiger Global and PVH Europe
Mark Bearfoot with awards judge Georgina McManus
Mark Bearfoot is playing a leading role in the fight against counterfeiting. In January, he was elected chair of the UK Anti-Counterfeiting Group, which represents more than 3,000 of the world's most prestigious brands. His collaborative skills extend beyond his work for the profession to his day job, one colleague praising him for 'thinking beyond his team, always making sure that the legal department facilitates the business in their vision of a luxury brand'. In his current role as senior legal director, IP and brand protection at Tommy Hilfiger Global and PVH Europe, he has overseen the merger of the two businesses' brand protection and IP functions into a unified global team whose remit spans more than 100 countries. 
---
Legal Team of the Year sponsored by Bennett Jones 
Winner: Bang & Olufsen 
Line Køhler Ljungdahl (right) and assistant general counsel Heidi Winkler with Jeilah Chan (centre), a partner at category sponsor Bennett Jones
Chief legal officer Line Køhler Ljungdahl leads a 17-strong international legal department for high-end consumer electronics company Bang & Olufsen which has undergone a successful initiative to transform itself from a reactive function of advisors to its current role of proactive business partner. Key to this was the use of the Net Promoter Score to achieve an in-depth understanding of business needs. The feedback from the annual survey has inspired and informed a series of well-received initiatives, including a full redesign of commercial contracts and an overhaul of internal communications making use of more visuals. 
---
The Marella Naj-Oleari Luxury General Counsel of the Year sponsored by Van Bael & Bellis
Winner: Hadrian Beltrametti-Walker, Kempinski Hotels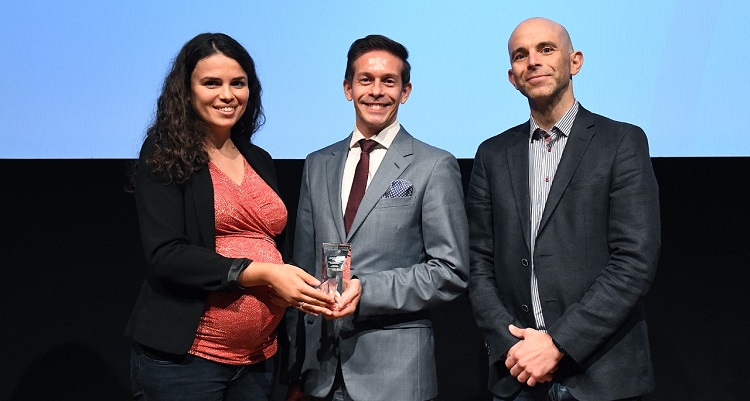 Hadrian Beltrametti-Walker (centre) with with partner Alex Stratakis and senior associate Valérie Lefever of category sponsor Van Bael & Bellis 
Hadrian Beltrametti-Walker is a leading general counsel in the luxury hospitality sector, whose work spans legal, company secretariat and, more recently, Kempinski Hotels' ESG programme. With a passion for sustainability, he is also advising a global coalition of hospitality leaders, working together to achieve Net Zero Carbon. 'Now that sustainability is on an ESG platform, the General Counsel is well placed to coordinate this area,' he told The Global Legal Post. 
---
Sustainability Initiative of the Year sponsored by McCarthy Tétrault
Winner: Cédric Vanhoeck, Resortecs
Cédric Vanhoeck with Chrystelle Chevalier-Gagnon, a partner at category sponsor McCarthy Tétrault
Cédric Vanhoeck co-founded Belgium-based start-up Resortecs in 2017 with the goal of developing new technology to help improve the fashion industry's sustainability credentials. Resortecs closes the production loop by targeting both ends of the manufacturing process to facilitate the recycling of materials. It has developed Smart Stich technology to produce heat dissolvable threads while its Smart Disassembly thermal system allows for the recycling of up to 90% of original fabric. The goal is to deliver high and disruptive impact (social, economic and ecologic) by small change.
---
Entrepreneur of the Year sponsored by Fox Rothschild
Winner: Margaret Byrne
Margaret Byrne with Ernest Badway, co-chair the fashion industry practice at category sponsor Fox Rothschild
As a leading player in the world of esports, lawyer Margaret Byrne has not only created the global business EStars, which runs major tournaments, but more recently devised a platform to educate students in the business of the billion-dollar industry. During the Covid-19 pandemic she created the Esports Club, an online educational platform. Working with educational institutions, it ensures students are equipped with the necessary skills and knowledge not just to meet the increasing demands of technology but to actively contribute to the growth of esports. The Esports Club provides seminars, tasks, challenges and competitions for its students and showcases opportunities in the sector.
---
Business Leader of the Year sponsored by K&L Gates
Winner: Gordon Ritchie
Gordon Ritchie with Gabriela Da Costa, a partner at category sponsor K&L Gates
Earlier this year, Gordon Ritchie led the rescue of Scottish heritage brand Crombie, which had ceased trading at the start of the Covid-19 pandemic. Backed by private investors, his mission as managing director is to 'to inject new energy into Crombie, raise the profile globally and broaden the perception of the brand'. He will build on previous work with the company, when he reinvented its wholesale operation, expanding it to 35 countries in less than three years. Fans of Crombie have included King George VI, Winston Churchill and John F Kennedy, who donned one of its coats at his inauguration.
---
Lifetime Achievement Award sponsored by Taylor Wessing
Winner: Dylan Jones OBE
Dylan Jones (centre) with Harold Tillman (left) and Jason Rawkins, head of fashion and luxury at category sponsor Taylor Wessing
Dylan Jones was presented with the Lifetime Achievement Award by awards president and retail entrepreneur Harold Tillman CBE and Jason Rawkins, head of fashion and luxury at award sponsor Taylor Wessing, for his outstanding contribution to men's fashion. The prolific journalist, publisher and author edited men's style bible GQ for 22 years and is the chair of London Fashion Week Men's having been pivotal to its launch. Accepting the award, he said he was a "huge advocate" of British fashion which faced strong international competition and described British luxury sector as the "very, very best in the world".