Law Society backs calls for step-change in socio-economic diversity of professional services by 2030
Report calls for half of senior financial and professional services sector leadership to come from a non-professional background by 2030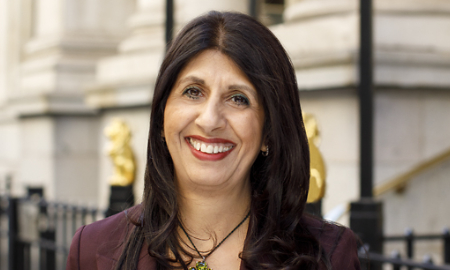 The Law Society of England and Wales has welcomed the final report from the City of London's Socio-Economic Diversity Taskforce, which calls for half of senior leaders from the financial and professional services sector to come from a non-professional background by 2030.
The report provides a roadmap that Law Society president Lubna Shuja said sets out how employers can speed up progress and achieve equity of progression. 
"Where you start in life should not determine where you end up," Shuja said. "We are pleased to have contributed to the taskforce's work to boost social mobility."
The five-point pathway includes assigning accountability to senior leaders, data collection, taking action, setting goals and publishing data. The key recommendations for employers are: 
Assign a senior leader responsible for socio-economic diversity 
Collect data on employee socio-economic backgrounds within two years
Take action to increase socio-economic diversity at senior levels and monitor what works 
Set targets based on data, considering the specific context e.g. starting point, size, location, subsector 
Publish data and what interventions have worked 
The Law Society said the recommendations were supported by solicitors at roundtables it hosted for the taskforce's industry-wide consultation earlier this year
"The legal sector is leading on diversity data collection, including socio-economic background, as this is mandatory for law firms regulated by the Solicitors Regulation Authority (SRA)," Shuja said. 
"We know there is already great work underway to remove barriers to entry and progression for solicitors from non-professional backgrounds. However, the picture of socio-economic diversity in the profession shows there is much more to do and we hope the Taskforce's five-point plan will support legal sector employers in driving change. 
The Law Society said it will implement the recommendations aimed at sector bodies by continuing to work closely with the SRA and the profession on getting the best data and sharing best practice. 
"Our focus will be on supporting firms to set their own goals for success and publishing their data in the coming years," Shuja added. 
---
Social Mobility Initiative of the Year is a category in the Women and Diversity in Law Awards, which are hosted by The Global Legal Post and take place in London on 21 March. For sponsorship enquiries email jasmindersoor@globallegalpost.com
---
The UK Government commissioned the City of London Corporation to lead the taskforce – the first of its kind – two years ago in a bid to boost socio-economic diversity in the UK financial and professional services sector. 
It is led by a strategy steering group that includes DLA Piper partners Vincent Keaveny, whose term as Lord Mayor of London ended last month, and Sandra Wallace, joint managing director, UK and Europe. The taskforce itself has 30 members from across the sector, including Norton Rose Fulbright's managing partner for Europe, the Middle East and Asia, Peter Scott, and former Law Society president Stephanie Boyce. 
"The industry's willingness to collaborate on tackling the barriers to promote people from lower socio-economic backgrounds into senior levels is unprecedented," Wallace said. "It marks a long awaited shift in the priorities of our sector and recognises the business and moral imperative to change. Now it's time to turn our words into action and instigate the real change required to transform our sector into a beacon for inclusivity in the workplace."
Her words were underscored by taskforce chair, Catherine McGuiness, who noted that while the UK financial and professional services sector has made inroads to becoming more inclusive – employees from working class and intermediate backgrounds now make up nearly half of the workforce in the sector – a progression gap exists. 
Those same employees progress 25% slower than their peers, earn up to £17,500k less with only 36% assuming senior levels. 
"Where an employee comes from, how their accent sounds, or what jobs their parents held, should not dictate how far they progress in the financial and professional services sector," McGuiness said. "Talented and ambitious employees are experiencing unnecessary barriers that prevent them from climbing the ladder. We as an industry can, and should, do better."