Top 100 law firms increase debt to £4.3bn to fund growth
The UK's top 100 law firms are racking up debt to the tune of £4.3 billion as they borrow to invest in growth.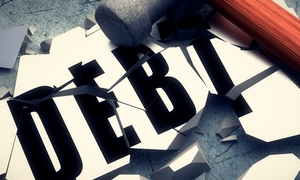 The amount of debt held by the UK's Top 100 law firms has increased 14 per cent in the past year to £4.3 billion - up from £3.8 billion in 2014/15 - as they borrow to invest in growth.  Research by Edward Drummond found that much of the debt was being used strategically, often to fund expansion through mergers or acquisitions in key target locations overseas, as well as for increased investment in new technologies. Firms still see M&A as the best way to sharply increase exposure to faster growing sectors or overseas markets – despite the risks associated with law firm mergers, according to the report. Although mergers in the legal sector rarely involve the leveraged buyout of one law firm by another the deal may still increase debt levels as integrating two law firms may involve upfront costs such paying to exit excess office or restructuring staff, it was explained.
Investing in innovative IT
Law firms are also increasing debt levels as they step up investment in IT systems to improve client service provision and improve efficiency, the report found. As well as broader IT initiatives such as investing cloud based computing law firms are also increasing their investment in innovative legal technologies such as Artificial Intelligence (AI), document automation and matter management analytics. Using IT to reduce support staff costs and identifying improved cross-selling and new business opportunities should help support profit margins.
Debt 'most suitable option'
Partner Gareth Ward of Edward Drummond, says: 'Compared to most other sectors, law firms don't tend to be highly geared. Those that have taken on greater levels of debt will have carried out extensive cost/benefits analyses and concluded that this is the most suitable option to fund expansion or investment plans.'
Long term debt
'One benefit of increased levels of long-term debt is that it allows for greater capital investment without reducing potential returns for equity holders…By using long-term debt to fund expansion abroad law firms can capitalise on new opportunities and spread their exposure to anyone to one market or geography, while exploiting economies of scale that can help firms keep fees low,' Mr Ward added. The amount of long-term debt held by the UK's top 100 law firms has increased 60 per cent in the past five years to £3.7 billion in 2015/16 – up from £2.3 billion in 2010/11. Over the same period the amount of short-term debt dropped by 24 per cent from £805 million to £612 million.