Withers adds life sciences partner duo in Boston from Brown Rudnick
Arrival of Brown Rudnick's former IP team lead, Tom Meyers, and Zachary Hyde follows UK firm's take over last week of a Texas private client boutique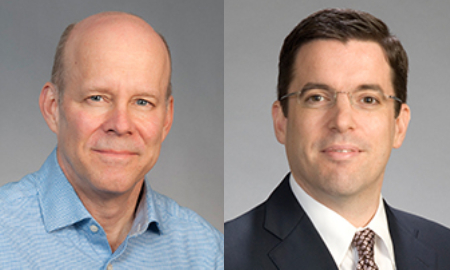 Top 30 UK firm Withers has added a senior life sciences intellectual property partner in Boston from US rival Brown Rudnick. 
The hire of Tom Meyers – who led Brown Rudnick's IP group and was also founder and chair of the firm's life sciences practice – along with partner Zachary Hyde comes just a week after the firm boosted its presence in Texas through a merger with Houston private client boutique Dossey & Jones.
Both Meyers and Hyde regularly advise US and international life sciences firms and Withers said their hire represented a 'major advance' in the firm's capabilities as it continued to work at the intersection of private capital, philanthropy and scientific innovation. 
"We are seeing more and more interest in investing private capital in the life sciences sector and have been actively building on our capabilities on a global scale in response to the needs of our clients," said Jeremy Wakeham, CEO of Withers' business division. 
"Our Boston practice is a focal point in representing the industry's entrepreneurs and innovators. Our life sciences, venture capital and corporate teams in the city continue to go from strength to strength, with Tom and Zack bringing outstanding reputations and a strong following to our well-established international life sciences team. Having already worked with members of our UK Withers tech team in the past, the transatlantic flow of work will only strengthen as more inter-connections are made."
Meyers has joined Withers after more than 13 years at Brown Rudnick, prior to which he was a partner at Cooley and Testa Hurwitz & Thibeault. Between 2004 and 2007 he was also vice president and general counsel of biotech research company Helicos BioSciences Corporation, where he developed patent strategies and oversaw the company's IPO. 
Meyers is recognised for his work with life sciences clients to develop, implement and monetise effective patent strategies. His client portfolio spans diagnostics, medical devices, life science tools and technology platforms, genomics and therapeutics.
Meantime, Hyde counsels clients in pursuing IP protection strategies. He brings extensive experience securing patents in areas including life sciences, biotechnology and pharmaceuticals and also counsels clients in pursuing prosecution strategies. He joined Brown Rudnick in 2011 after graduating from Boston College Law School and made partner at the firm in 2019. 
Meyers commented: "We love what Withers is doing in Boston and around the world – building a hub of excellence for life science and pharma businesses and the investors that back them. Zack and I see huge opportunities to assist clients around the world in growing and increasing the value of their businesses."
Withers first opened in Boston at the start of 2021 as part of a move to expand its international tech practice, hiring life sciences IP partner trio John Serio, Richard Emmons and Christopher Cowles from Burns & Levinson for the launch. 
Following the arrival of Meyers and Hyde the Boston office will consist of seven partners and eight associates. The team was boosted most recently last November with the hire of corporate partner Alex Khalarian, who also moved over from Burns & Levinson. 
UK magic circle firm Allen & Overy launched in Boston last February with the hire of a highly rated five-partner life sciences IP litigation team from Goodwin Procter. It is the firm's fifth base in the US. 
A number of US firms have also secured IP teams in Boston in the past few years to set up shop in the life sciences hub, among them Fox Rothschild and Barnes & Thornburg. 
And last March K&L Gates bolstered its life sciences and IP capabilities in the city with the addition of a 12-strong team from local boutique Lando & Anastasi.