Withers acts in Soho House luxury hotel deal
The firm acted in the £200m deal, Soho House's first foothold in London's City area.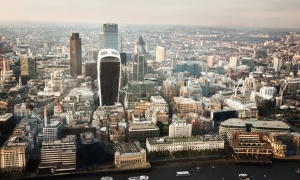 Withers has represented the joint venture between Soho House and Sydell Group in the widely anticipated launch of its landmark new five star hotel The Ned, at 27 Poultry in London, represented by Farrers. The development has seen Soho House and the Sydell Group, whose hotels include the NoMad in New York and the Line in Los Angeles, renovate the former Midland Bank headquarters, a Grade I listed site designed by Sir Edwin 'Ned' Lutyens in 1924. The Ned is a new addition to the London hospitality landscape -  offering 252 bedrooms, eight restaurants and additional bars in the bank's original vaults and on the rooftop with views across the City. 
Hotels
Lead partner Jeremy Wakeham, CEO of Withers' Business Division, comments: 'The Ned is the biggest new opening in the hotel and hospitality space that London has seen in years, and will transform the range of eating, entertainment and high-end rooms on offer in the City.  The sense of expectation has quite rightly been immense, and the finished building will leave no one in any doubt that the hype was fully justified, allowing the City to enjoy the Soho House experience for the first time.  We're delighted to have been closely involved in the project since it got under way, as we have with Soho House's international expansion in locations including Los Angeles, Barcelona and Mumbai.'
Withers team
The Withers team included corporate partner Tim Taylor, real estate partner Paul Brecknell, construction partner Julie Teal, tax partner Christopher Groves and employment associate Helen Colquhoun. Withers' international hotel clients include leading owners and operators in the sector such as Marriott International, Radisson Blue, Ralph Trustees Ltd, Felda Hotel, SilverNeedle Hospitality Group, Starwood Hotels and Resorts, Pro-Invest Hotels Group. 
Luxury Law Summit
The luxury hotel marketplace will be discussed at the Luxury Law Summit on 16 May with Lungarno Collection CEO Valeriano Antonioli discussing how Italian brands are focusing on the hotel sector. The Lungarno Collection is an extension of the Ferragamo brand. For further information go to www.luxurylawsummit.com.